History of The Gualala Riverfront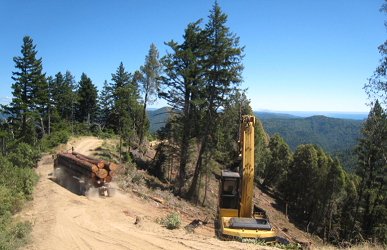 Gualala Redwoods Inc. (GRI) is a 67 year old family held redwood forest company which owned 30,000 acres of robust and highly productive second growth redwood forest along the scenic Mendocino and Sonoma County coast in Northern California in the Gualala River watershed. GRI's primary business was the sustained growth and sustained production of high quality redwood and Douglas-fir sawlogs for sawmills in the area and for export to China. We carefully balanced economics with protection of the environment for fish, wildlife, and the Gualala River watershed.
GRI sold most of its timberland acreage in 2015 and now owns some residual Higher and Better Use land at the river mouth, zoned industrial, and commercial and residential zoned land in the town, which is for sale.
The Edmunds family bought Gualala Redwoods in 1948 with two other partners. In 1986, the Edmunds family became the sole owners. The family is proudly committed to sustainable management and responsible stewardship. Gualala Redwoods is a healthy working second growth redwood and Douglas-fir forest. Good soils, abundant rain, and vigorous trees allow the forest to be sustainably harvested forever. Careful attention has been given to balancing harvest and growth, restoring the watershed where needed, and monitoring to assure that management impacts are minimized. Harvesting continues today using modern techniques and implementing mitigations to minimize impacts on the environment. GRI sold its timberlands in 2015.
The property has been a successful working forest since the 1860s. It has a rich history of logging and sawmilling. Redwood lumber from the GRI lands helped build San Francisco, and then helped rebuild it again after the 1906 earthquake and fire. The modern era of logging began after World War II when tractors, log trucks, and cable yarders took over from oxen and steam locomotives.
GRI property is also home to many plants and animals. We are proud to report a healthy population of northern spotted owls. Steelhead trout are abundant and we have the occasional sighting of coho salmon. The swamp harebell and mapleleaf checkerbloom are plants of special concern that are abundant on GRI lands. Red-legged frogs, made famous by Mark Twain as the "Notorious Jumping Frog of Calaveras County" are also present in some of our ponds.